Unique Gift Ideas For The Home Business Entrepreneur
With the Christmas season upon us are you still looking for some unique gift ideas for that special home business entrepreneur in your life?
Have no fear!
I have scoured the Internet and come up with the following list of the best unique gift ideas for both men and women, sure to satisfy those entrepreneurial needs. Many of these items I either already own, or have recently added to my list!
1. SMOVE Smartphone Stabilizer
SMOVE: Smartphone Stabilizer & PowerBank.  SMOVE is a smartphone stabilizer that also serves as a PowerBank charger. It also comes with some advanced features like automated 360 degree panorama shots, auto face-follow video recording, and full rotational control for maximum stabilization.  SMOVE fits in your pocket for easy portability, and comes with built-in tripod and extension adapter mount.  SMOVE is currently being crowdfunded with delivery beginning early 2017.
Neat Receipts:  This portable scanner lets you quickly scan, sort, and store your receipts, business cards and important documents.  The included software service helps you identify and organize all of the key information, simplifying your accounting.  Never again find yourself searching for those missing receipts at tax-time!
3. Universal Travel Adapter
All-in-1 Universal Travel Adapter:  Part of living the Freedom Lifestyle is taking your business online … and around the world!  Not surprisingly, there are different power standards around the world, and these adapters will prevent you from scrambling to charge your essential electronics.
4. Audible Audiobooks Membership
Audible Audiobooks Membership: Entrepreneurs are constantly feeding their need for learning, and audiobooks are the perfect way to accomplish that while on the go. An Audible membership is a perfect way to keep building your business and your mindset without interrupting your daily flow.
Blueprint Prints: Innovation can be a great source of inspiration, especially when you're in the middle of a big project, or struggling to get that next blog post out.  These blueprint prints provide inspiration for days from all of those "crazy ideas" that we now can't live without, such as a camera or bicycle.
Modify Watches: These highly customizable watches will turn you back into a watch-wearer!  Mix and match from their huge selection of designs, or create your own.  For that extra personal touch, imagine walking around with your own logo on your wrist!
Social Media Pillows: For the social media guru on your list, let them rest their head on the pillow that matches their dreams!  These custom-made pillows feature the icon from your favourite social network.  From Facebook to LinkedIn, Snapchat to Pinterest, Craftsquatch has you covered.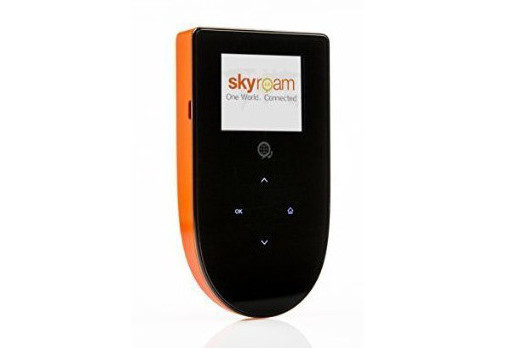 Skyroam Mobile Hotspot: Global Wi-Fi available in 100+ countries.  This personal Wi-Fi hotspot for fast, secure mobile data worldwide allows you to connect up to 5 devices and pay as you go. No SIM card is required and packages start at $8 for 24 hour day-pass with unlimited data.
Success Magazine:  Each issue brings some of the world's top leaders and most successful entrepreneurs into your home through thought-provoking articles and accompanying audio interviews.  From business to leadership to personal development, Success Magazine has you covered.
Navdy:  This see-through projection display is the best way to use your phone while driving.  Keep up with your phone while keeping your eyes on the road as images are transparently projected onto the windshield in front of you as you drive!  Control what's displayed with simple customizations, and choose which calls to answer with hand gestures.
I'm always on the lookout for unique gift ideas, so I'd love to know if you have some great ideas that I didn't cover!  Please let me know in the comments below.
P.S. IF YOU'D LOVE TO START YOUR OWN BLOG WITH "JUST 3 CLICKS", CHECK THIS OUT!
Was this valuable for you?  If so, I would greatly appreciate if you commented below and shared on social media.