Switzerland Tour: 2 Days in Lauterbrunnen Hiking the Swiss Alps (Part 1)
For our first trip to Switzerland we headed straight into the Alps and settled in the Lauterbrunnen Valley.  If you haven't been, you definitely want to put this place on your bucket list!  Located in the ski-happy Jungfrau Region, our off-season visit in October meant we were in for some incredible Lauterbrunnen hiking!
The Lauterbrunnen Valley is one of the most picturesque areas in Switzerland, nestled between gigantic rock faces and mountain peaks.  It's also just a 30 minute train ride from the vibrant town of Interlaken.
Part 1 of our Lauterbrunnen hiking expedition took us up the east side of the valley to the ski village of Wengen.  From here we saw the first of many incredible views of Lauterbrunnen down below, including the magnificent Staubbach Falls (one of the highest free-falling waterfalls in Europe).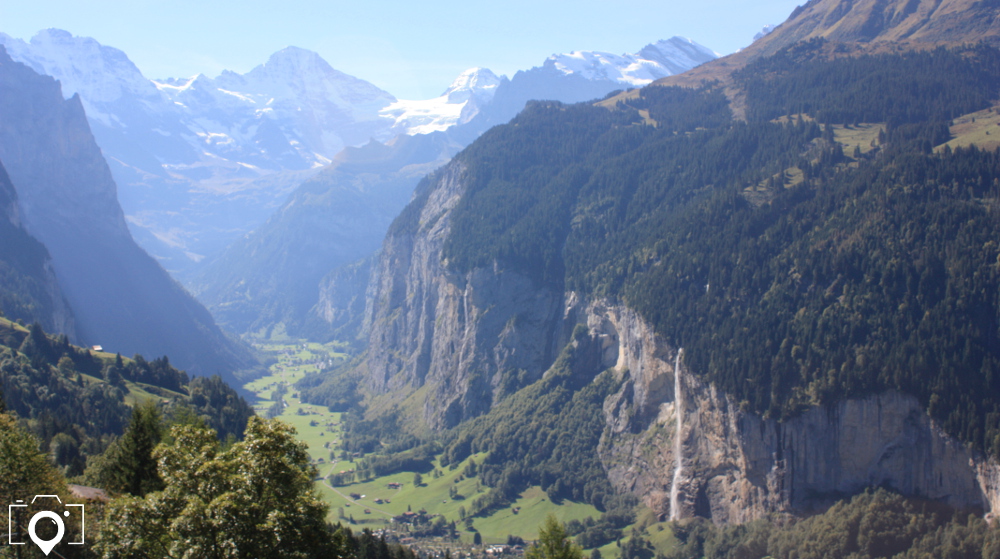 Wengen is a lovely picturesque village, well worth spending some time in.  Traditionally an alpine farming community, Wengen is also considered to be the birthplace of modern ski racing an alpine skiing.  You will be hard-pressed to find many cars here as it's one of a few car-free resort towns in Europe.  Any cars that are here are generally local service vehicles, farm vehicles, or electric vehicles for shuttling to and from the train station.
Throughout Wengen you'll find hints of it's farming roots.  The ring of traditional cow bells echoes throughout the village.  Try to time your trip during the annual cow parades to see farmers herding their cattle between their winter barn shelters and their high-mountain summer pastures.
After a lovely outdoor lunch at a local hotel we took the aerial cableway up the mountain to Männlichen.  Immediately we were greeted with breathtaking views of the surrounding countryside!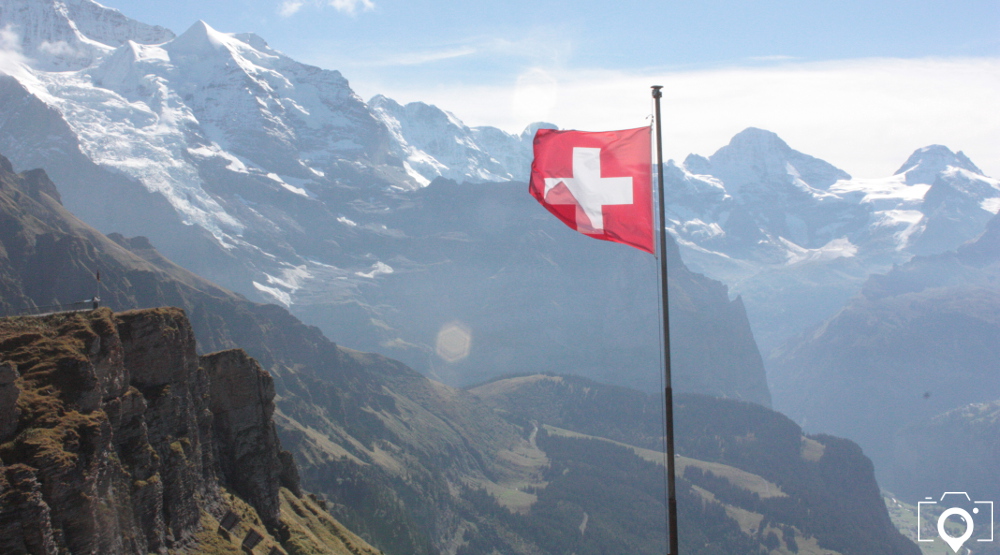 As we set off on our hike, we found amazing Alpine views everywhere we looked.  Of note are scenic overlooks of Grindelwald, a very popular tourist destination for skiers and adventure seekers.  Many guidebooks will recommend travellers stay in Grindlewald to explore the area, but we found Lauterbrunnen to be a much more relaxed base for our trip.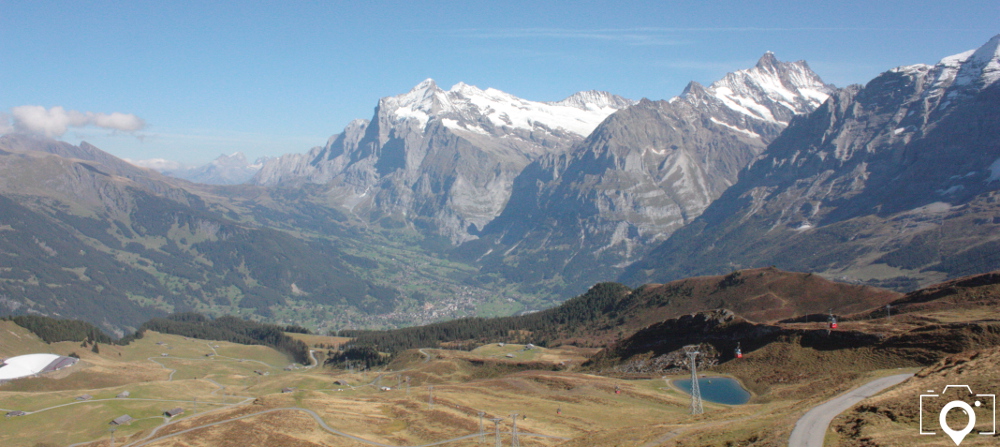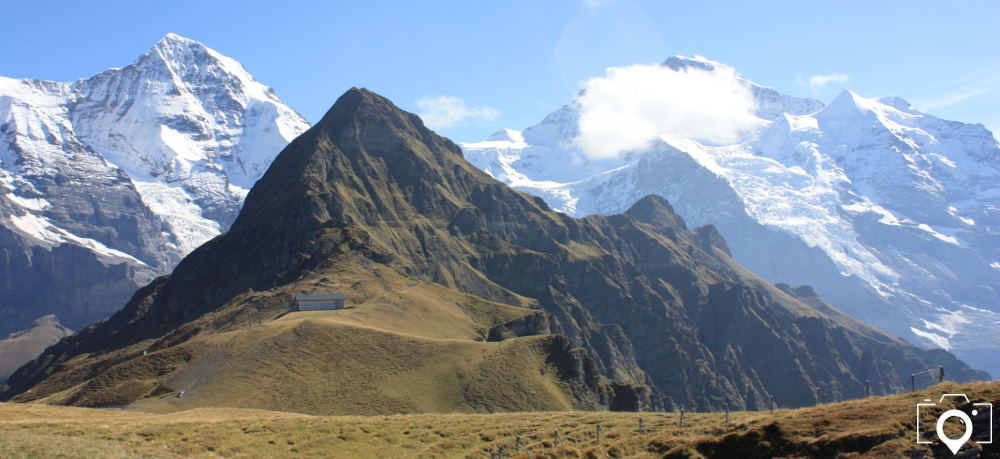 In addition to the incredible scenery, there's much fun to be had along this 1 hour 20 minute hike from Männlichen to Kleine Scheidegg!  As we passed under some of the ski lift stations, I found it was very interesting to picture what it must be like to ski down to Grindelwald from these vistas in the winter.
As we came around the final bend of our hike, we  could see the mountain pass of Kleine Scheidegg in the distance.  From here you're able to enjoy some of the hotels and restaurants available, or board the Jungfrau Railway which climbs steeply through the Eiger and Mönch mountains to reach Jungfraujoch – the highest point in Europe reachable by rail.
For more information on everything available in this region be sure to consult Rick Steves Switzerland.  If you don't already know Rick Steves, he's every traveller's go-to authority on Europe.
We didn't venture up to the Sphinx Observatory this trip (just visible in the above picture – it's the small building at the top, to the right of center), but plan to return to take in the majestic views and  perhaps continue our hike out on the glacier!  Instead we boarded the cogwheel train back down to the Lauterbrunnen valley.
I hope you enjoyed coming along on this incredible Lauterbrunnen hiking tour!  Has it inspired you to visit the region?
Please comment below if you've visited this area and found even more hidden gems.  I'd love to discover them the next time I'm there.
Be sure to tune in next week for Part 2, where we venture up the west side of the Lauterbrunnen Valley.  I promise it'll be worth the wait!
Was this helpful for you?  If so, please share it with a friend who you think would get value!
Be sure to comment below and let me know if you've ever experienced Lauterbrunnen hiking the Swiss Alps!
P.S. If you'd LOVE to start Your Own Blog with "Just 3 Clicks", check THIS out!
Was this valuable for you?  If so I'd really appreciate your comments below and shares on social media.
Resources Mentioned:
Rick Steves – Rick is America's leading authority on European travel.  Watch any of his videos, pick up any of his books, or visit his website and it's easy to see why! Learn More
Rick Steves Switzerland – If you're planning a trip to Switzerland, you need this book!  It's packed with tips, tricks, and recommendations that will ensure your visit is as incredible as possible.  Learn More