The Top Black Friday Deals You Need For Freedom Seekers
With Black Friday comes the season of great deals!  Do you still need a gift for that freedom seeker in your life?  Are you a Freedom Seeker who wants to hit the next level of freedom?
Have no fear!
I have scoured the Internet and come up with the following list of the best travel gift ideas for both men and women. Many of these items I either already own, or have recently added to my list!
The Skyroam Solis is an absolute must for every Freedom Seeker!  It's time to stop seeking out coffee shops and hotel lobbies to check email or create some daily content.  Most recently, I used mine to do a live video while standing at the peak of the Swiss Alps!  If that doesn't say freedom lifestyle to you, I'd love to know what does 🙂
This year's Black Friday deal give you a bonus of 10 days of FREE WiFi with purchase of your Solis device ($80 value!).  If you wait until Cyber Monday, this deal goes away, but you can still get 20% off the purchase of your device.
Solis is a device the size of a hockey puck that connects seamlessly to 4G LTE networks around the world to provide a reliable WiFi hotspot.  As if that wasn't enough, you can share your hotspot with up to 5 devices, and it can also function as a powerbank.  Solis can be used in 100+ countries worldwide and comes with 16+ hours of WiFi battery life! 
Creative Live is the best platform I've found for continued growth and learning.  There are inexpensive courses for just about everything you need to continue growing your online business.  Some of the ones I've taken include "Learn a Language", "How to Capture Landscape With Your iPhone", "Using Pinterest to Grow Your Business", among others.
This year's Black Friday deal offers you up to 60% off any course!  They also offer an ever-changing selection of FREE classes every day.  Want to really up your game?  There's no better time than right now to kickstart your goals and end the year strong.
Included in Creative Live's huge library of online courses are some great ones for travellers.  "Become a Travel Hacker" is a course by New York Times best selling travel author, Chris Guillebeau.  Chris offers 9 video lessons designed to help you earn hundreds of thousands of miles and points — before even getting on an airplane.  You'll then learn how to put your new treasure chest to good use to go anywhere, anytime.
With Blurb you can take those amazing travel pictures hidden on your computer hard drive and transform them into a beautiful photobook to keep those memories alive.  I recently used Blurb to create a beautiful keepsake telling the story of my wife's and my engagement shoot (read more about that epic day here).  It was simple to put together, arrived quickly, and turned out absolutely beautifully!
This year's Black Friday deal offers you 50% off with the code BLACKFRIDAYFIFTY … how amazing is that!!!
Blurb offers an array of samples and templates to help you create your masterpiece.  Not only that, but they also make it easy to turn your creations into magazines, photobooks, eBooks, and more that you can sell on your website!
Isn't it time you found something that was both functional and stylish to carry your essentials while travelling the world??  Baggallini was created by 2 flight attendants who wanted exactly that!
This year's Black Friday deal offers 25% off Sitewide + FREE shipping.  This offer is available until Nov 27th … But WAIT! … November 23rd only, use the code BAGGFRIDAY and let's up your savings to 30%!!
They really do have some beautiful bags from mini's to cross-body, totes and toiletries.  I just hope my wife doesn't read this article before Christmas!!
Nomatic designs top of the line wallets, travel bags, watches and bags for only the most savvy traveller.  As a Freedom Seeker, you definitely fit that description!
This year's Black Friday deal offers $75 off select bags and 40% off accessories.
There's no better time than now to stock up for your next trip with some of the most functional gear ever.
Priority Pass is the world's largest independent airport lounge access program that allows members to use over 1200 lounges around the world. Regardless of airline or ticket class you are welcome to enjoy the complimentary food, drink and much more.
This year's Black Friday deal offers up to 40% off your annual membership fee!
A great addition for any Freedom Seeker!  Isn't it time you were treated the way you deserved to be treated at an airport?
Thinkific helps you create, market and sell courses from your website.  You'll have the freedom to customize your content to fit YOUR brand, while seamlessly integrating with your other online tools like sales funnels and email autoresponders.
This year's Black Friday deal offers $495 for 7 months of Thinkific plus over $2500 worth of free bonuses!
Thinkific offers full support for video, audio, PDF, text, HTML, voice-over slide presentations, surveys, quizzes, and downloadable attachments!
For any WordPress blog, Elegant Themes offers some of the nicest, intuitive, robust themes and compatible plugins to help your website stand out in the pack.  It's the only place I go any time I want to refresh my website or help someone else design theirs.
This year's Black Friday deal offers 25% off everything, plus an incredible $266,480 in bonuses for those who join today!
I've been developing websites for many years, and once I found their Divi theme together with the amazing support systems and user groups, there's nothing else I'd trust my website to.  With Divi, Elegant Themes is continually pushing the boundaries of what's possible with WordPress themes.  If you're serious about your online presence, this is the theme you need.
Any time I'm asked how I travel as much as I do and how I find such epic experiences, my answer is always the same: DreamTrips!  It's the best travel club I've seen, offering untouchable experiences, price guarantees, and vacation planning.
This year's Black Friday deal offers $99 for any membership level.  That means you could start out at their Platinum level (which I am and highly recommend) without having to pay their $380 registration or your first monthly payment of $100 … this is an incredible savings of $380!!
DreamTrips offers specially curated vacations at prices you won't see anywhere else because they leverage our membership group to drive down vendor pricing.  Think of them as Sam's Club or Costco, but for travel.  In fact, if you can find a better price, you go on the trip for free!
Can't find a trip you want at the time you want?  No problem, simply create your own DreamTrip.  You should definitely be here!
So there you have it the Top Black Friday Deals for Freedom Seekers!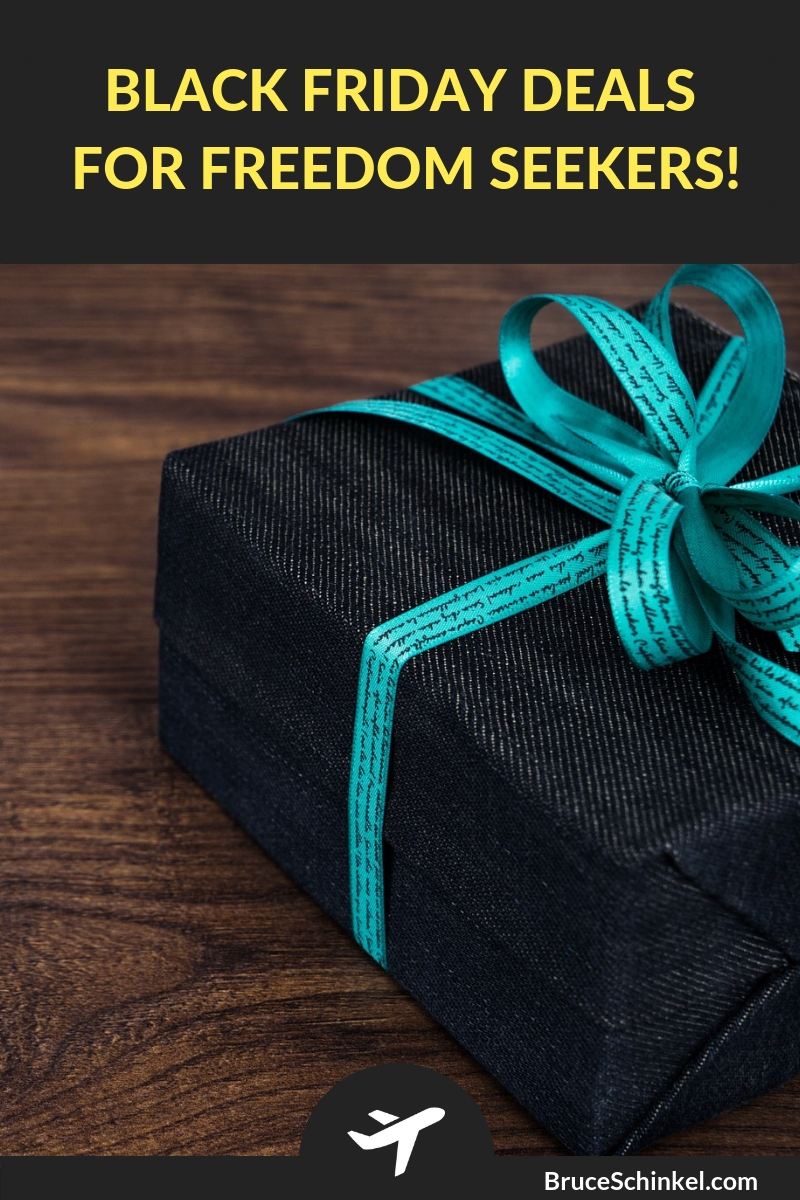 I'm always on the lookout for new travel gift ideas, so I'd love to know if you have some great ideas that I didn't cover!  Please let me know in the comments below.
P.S. IF YOU'D LOVE TO START YOUR OWN BLOG WITH "JUST 3 CLICKS", CHECK THIS OUT!
Was this valuable for you?  If so, I would greatly appreciate if you commented below and shared on social media.