What is a Personal Item Anyway?
Airline rules tend to be very clear for just about anything a customer would want to know. Personal items; however, appear to be one of those exceptions to the rule. Do they fall under the rules for carry-on luggage? Just what is a personal item anyway? Many airlines don't publish rules for personal items, and those that do can't seem to agree on basics like the size allowed.
I'm going to attempt to clarify what you can (and can't) bring as a personal item, and how big your personal item can be. To do this we'll have to look at what the rules that do exist seem to imply, and take into account what is generally accepted.
What is Generally Accepted?
According to the TSA, you are allowed "one personal item such as a laptop computer, purse, small backpack, briefcase, or camera case". Different airlines range on what they consider acceptable, but the intention is the same. Here are some example personal items across a few airlines:
Air Asia: "1 x laptop in its carrier with its accessories or 1 x handbag (male / female)"
American Airlines: "purse, briefcase, laptop bag OR a similar item such as a tote"
Delta: "1 purse, briefcase, camera bag or diaper bag; or 1 laptop computer (computers cannot be checked); or 1 item of a similar or smaller size to those listed above"
Lufthansa: "a woman's handbag, a laptop case or shoulder bag"
From this we can gather that your personal item should be a small bag like a daypack, laptop bag, purse, camera bag, or tote. For planning, it helps to think "bag" rather than "luggage" when considering a personal item.
Can You Carry a Backpack as a Personal Item?
If you want to use a backpack as your personal item, try for a slim laptop backpack or an unstructured, packable daypack. Just make sure it abides by any sizing rules, should they exist for your airline.
What is NOT Considered a Personal Item?
It is important to note that there are a number of items that do not count as either a carry-on or a personal item:
Pillow or blanket
FAA-approved safety seat, stroller, and diaper bag for lap or ticketed child
Assistive devices for passengers such as wheelchairs, walkers, canes, crutches, braces, portable oxygen concentrators, and CPAP machines
A foot rug (3′ x 2′ maximum) for use during prayer
Pet carrier
If you need to bring one of the above items with you, it should be safe to consider it as "in addition" to your regular baggage limit. I would recommend you always verify with your carrier to avoid any surprises at check-in.
Personal Item Size
Since there does not seem to be one explicit rule for the size of your personal item, a good rule of thumb is that it should fit under the seat in front of you. Do not use your personal item as an excuse to bring a second carry-on and be the selfish person everyone hates taking up multiple spots in the overhead bin!
If we are going to use the "under the seat" rule as our guide, how much space is under the seat? Plus, how much space is for my feet if I'd like to be a little more comfortable during my flight?
Once again, those airlines that do provide guidelines on sizing vary. Here are a few airlines that publish size guidelines for personal items: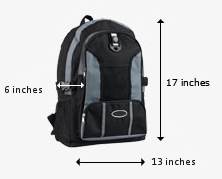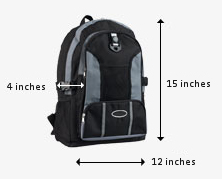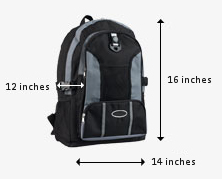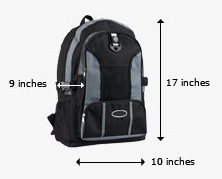 Again, I'd highly recommend that you verify any rules with your airline before arriving at check-in for an unpleasant surprise.
Something else to keep in mind is that the more discreet your personal item is, the less likely it is to draw the attention of the gate agent, so try to keep it inconspicuous. The best options for a universal personal item are: purses, slim laptop or messenger bags, or tote bags.
It's always best to pack as light as possible to avoid any reason to be singled out by your airline.
Was this helpful for you?  If so, please share it with a friend who you think would get value!
Be sure to comment below and let me know what you use for a personal item when you fly!
P.S. If you'd LOVE to start Your Own Blog with "Just 3 Clicks", check THIS out!
Was this valuable for you?  If so I'd really appreciate your comments below and shares on social media.