Your Complete Google Analytics Introduction To Setting Goals
In this Google Analytics Introduction we're going to dive a bit deeper into the power of Google Analytics.  If you haven't yet setup your account to track all your vital website stats, be sure to check out these previous blog posts so we're all starting from the same base:
1. Create Dashboards to put the most vital information right where you need it so you can quickly make those important decisions
2. Campaign Tracking helps you identify exactly how visitors are entering your site and which campaigns are working best for reaching your audience
3. Social Media Reporting is dedicated to providing info about how your social media presence is affecting your website
Now it's time to go a step further and really get this information working for you!
To help walk you through this Google Analytics Introduction to Setting Goals, as well as provide more step-by-step detail than is available in this post, I've included this handy Goal Setting Guide for you to download.

Re-frame How You View Your Website
Everything we've accomplished so far in this Google Analytics Introduction series has served to create inputs for our true website goals.  These stats on page views, time on site, etc are important, but essentially useless when we start talking about Return on Investment (ROI).
It's time to start viewing your website as a funnel, not a hierarchy of pages: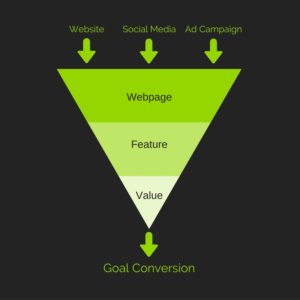 Each page, post, and ad needs to serve a purpose.  Everything you create needs to push visitors in the direction of the actions you want them to take.
Creating a New Goal
Google Analytics will allow you to create up to 20 goals for your website property.  To create a new goal, login to your Google Analytics account and navigate to the Admin menu.
You'll find 3 options for creating your goals:
1. Use a Goal Template – designed to help you quickly create goals based on your business industry
2. Create a Custom Goal – create your own goal based on one of the 4 goal types available
3. Create a Smart Goal – not configurable or customizable, but can aid in optimizing AdWords performance
Smart Goals and AdWords are out of the scope of what I'll be covering in this article, so we'll just focus on Goal Templates and Custom Goals.
Using Goal Templates
Goal Templates are broken into 4 categories to better sort your business objectives.  The actual templates available will differ based on what you had selected as your business industry when you set up your Google Analytics account.
1. Revenue – an action that ties directly to  a dollar outcome such as reserving an appointment or completing a sale
2. Acquisition – when a visitor has created a personal account or view on your website
3. Inquiry – indicate visitors are looking for more information such as FAQs or reading reviews
4. Engagement – where your visitors are directly interacting with you such as by saving a list of favourites or sharing on social media
When just getting started it's best to go through these goal tremplates to help organize and consider the purpose of your goals.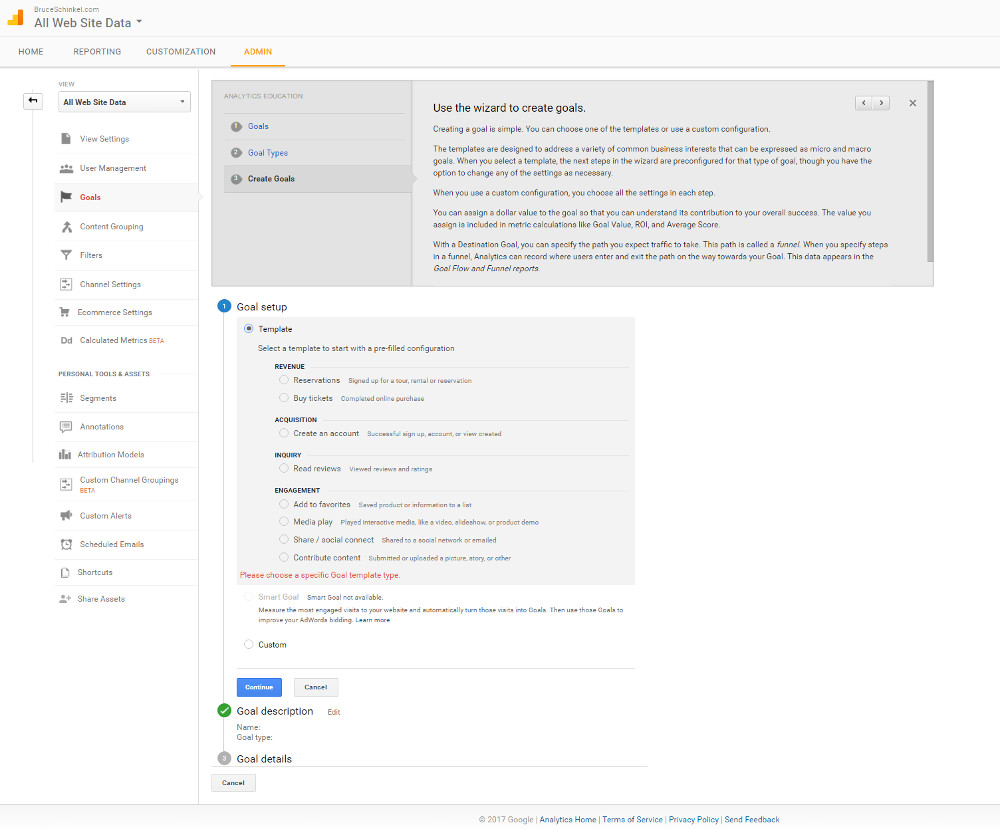 Creating Custom Goals
Now that we've got a feel for the types of goals that would make sense for our websites, we can start customizing even more goals to give us even more personalized info.
What do you REALLY want out of your website or latest blog post?  Newsletter signups?  Ad clicks?  Downloads?  Product Sales?
What activities do you want your visitors to take, and what are those activities worth to you?
There are 4 types of custom goals you can set up with Google Analytics:
1. Destination – a specific page is viewed, likely only viewable by completing a specific website flow.  An example would be a registration confirmation page
2. Duration – used for those times you want to target those visitors who spend a certain amount of time or more in a single session.  For example spending 10 minutes or more on a support site.
3. Pages/Visit – tracking visitors who cross a desired threshold of page visits during their session to compare your super-fans with your tire-kickers.  For example visitors who have loaded 5 pages or more.
4. Event – tells you how often are visitors performing a specified action on your website, such as playing a video, clicking an ad, or downloading a document.
Whatever the main purpose is for your site, setting Google Analytics goals will help you track those conversions.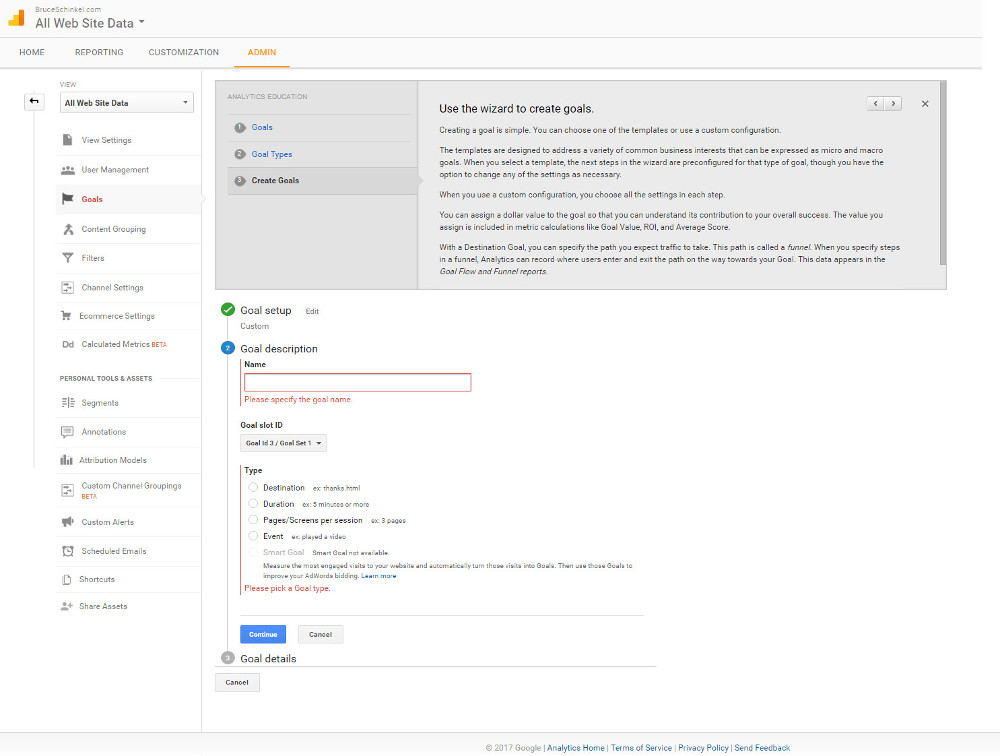 Set Your Value
The true power of setting up your goals comes when you begin to assign monetary values to them.  Suddenly you know what each goal is worth to you, and you're able to work back to see which inputs (campaigns, dashboard date, etc) are responsible for achieving those goals.
This is beyond simply assigning a dollar value to a sale … that tracking can be done using your sales and revenue reports.
Assigning values to your goals requires a bit of creativity, and some data analysis to properly set it up.
For illustration purposes, let's take a look at a quick example:
Say you have found that for every blog post view you have 20% of visitors click to find out more about the offer you're promoting.  Of those 20%, you find that about half add your product to their cart, and half of those people complete the checkout and purchase the product.
To keep the math easy, let's say your product is $100.
Then, following the example, if 100 people visit our blog post then 20 of them will click on our offer.  Of those 20 people, 10 will start the checkout process, and 5 of them will complete the purchase.  The result is (5 x $100) = $500 in sales revenue.
We can then take that $500 and estimate goal values on each step along our sales funnel that we decide matters to us:
– Each person who starts the checkout process provides a value of $50
– Each person who clicks on our offer provides a value of $25
– Each person who visits out blog post provides a value of $5
Any action on your website can be tracked and assigned a value.  The only limit is your creativity!
Let's Go!
It's time to get started!
Start thinking about what areas of your website you're most concerned with.  What areas have the most potential to bring you and your audience value?  And what actions do you really want your visitors to take?
I'd recommend to start with a few basic goals to get comfortable, and don't worry about assigning values to them right away.
As you start to get used to the power of your Google Analytics account you'll be sure to find some amazing ways to track exactly what you need to get you and your site where you want it to be!
Was this Google Analytics Introduction to Setting Goals helpful for you?  If so, please share it with a friend to help them unleash the power of tracking goals on their website!
Be sure to comment below and let me know what goals you came up with!
Was this helpful for you?  If so, please share it with a friend who you think would get value!
Be sure to comment below and let me know how this Google Analytics Introduction helped your Goal Setting!
P.S. If you'd LOVE to start Your Own Blog with "Just 3 Clicks", watch this FREE video!
Was this valuable for you?  If so I'd really appreciate your comments below and shares on social media.