Your Complete Google Analytics Introduction to Campaign Tracking
I recently discovered campaign tracking through Google Analytics and I needed to share it with you!
There's simply no better way of tracking how effective your latest ad campaign or email broadcast was.  Your Google Analytics dashboards and reports are great, but there are a few areas that even they can't dig into.  This is where your campaigns will save you.
To help you keep your campaigns straight, I've included this handy Campaign Tracker for you to download.

What is Campaign Tracking?
Campaign Tracking allows you to identify how visitors are entering your site.
We've gone over the information that Google Analytics is able to discover and provide through Dashboard Reporting in a previous post.  Most of this data is collected using cookies (no, not the baking kind), and tracks visitor data like the device used, country of origin, or where they were before finding your site.
Campaign Tracking takes this information a step further.  It allows you to create your own, custom URL's that contain embedded information.  This information can provide even more detail about the habits of your visitors or give you some insight into the effectiveness of your marketing campaigns.
The best part?  You don't need to play around with Google Analytics settings to use it!
There are 2 main areas where campaign tracking helps your online business:
1. Social Media Campaigns – Without campaign tracking all traffic from social media is bunched together under Social Referral traffic, with no way to break out individual campaigns you're running on one or more social networks.
2. Email Campaigns – If you're promoting your site through your email newsletter (and I hope you are!), there's no referral data being passed on to Google Analytics.  This means that you won't know how effective any given email was without a lot of reporting effort unless you're using campaign tracking.
How Campaign Tracking Works
Campaign Tracking uses Urchin Traffic Monitor (UTM) parameters to tell Google Analytics additional information about a visitor's session, which then becomes reportable.  You've likely noticed these parameters in other websites you've visited without understanding what was happening behind the scenes.
Here's an example:
http://bruceschinkel.com/blog-posts/?utm_source=newsletter&utm_campaign=dec12_blog_post&utm_medium=email
To set up campaign tracking Google Analytics requires 3 key pieces of information:
1. Source – Where the traffic is coming from (Facebook Group, Twitter, Newsletter, etc)
2. Medium – How is the traffic coming (email, affiliate, banner ad, etc)
3. Campaign Name – The name of the campaign you're tracking (eg Dec_12_Email_Broadcast)
Using the above example the source is my newsletter, the medium is email, and the campaign is my Dec 12 blog post  broadcast (note that the '_' character is recommended in place of any spaces).
Creating a Campaign
Rather than trying to create your own campaign tracker from scratch, Google has a Campaign URL Builder to easily generate one for you.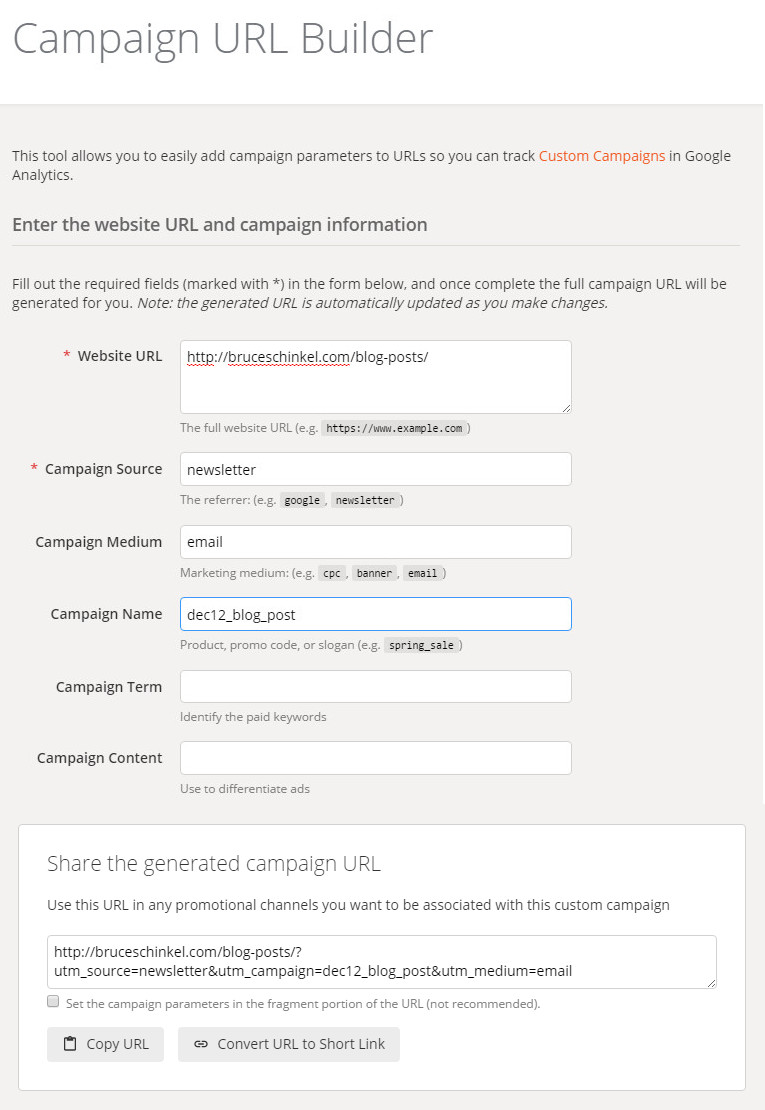 At a minimum you'll need to enter a destination Website URL and specify your Source to have Google generate your campaign tracker.  Fill out the remaining fields with as much data as you want to track for your campaign.
As you fill out the URL Builder you'll see your Campaign Tracker URL begin to take shape.  It's important to note that whatever you enter into these fields is case sensitive!  That means that "campaign" is not the same as "CamPaign".
When you're done, you can either copy the entire URL as it's displayed, or use a URL-shortener such as bit.ly or the PrettyLink WordPress plugin.  Google even supplies one here for you to use by clicking the "Convert URL to Short Link" button.
I highly recommend you shorten the URL for better optics.  Some users may shy away from clicking on a link that appears long and unruly.
Campaign Tracking Reports
So now you've got your campaign tracking URL's, and you've assigned them to your campaigns.  How do you view all this data that is now being collected?
Google Analytics has an area specifically for campaign tracking.  How great is that!
Return to the Reporting screen of your Google Analytics account and look for Acquisition -> Campaigns near the bottom of the left menu.
A word of warning as you get started with your campaigns.  Do not create any campaigns that are internal to your website!
Why?  As an example, suppose someone finds your site through a social network campaign, but then navigates within your site through an internal campaign link.  Those pageviews will now show as coming from organic sources rather than a social referral, making your reporting highly inaccurate.
So let's get started!
Remember to download this Campaign Tracker to help keep your campaigns straight.

Was this helpful for you?  If so, please comment below and share this Google Analytics Introduction with your blogging friends to hep them add Campaign Tracking to their websites.
Was this helpful for you?  If so, please share it with a friend who you think would get value!
Be sure to comment below and let me know what Campaigns you've setup with this Google Analytics Introduction!
P.S. If you'd LOVE to start Your Own Blog with "Just 3 Clicks", check THIS out!
Was this valuable for you?  If so I'd really appreciate your comments below and shares on social media.