How to Turn Your Engagement Photo Shoot Ideas into an Awesome Reality
When it comes to engagement photo shoot ideas, it's often difficult to make our grand plans a reality.  My wife and I were fortunate enough to be given the opportunity to create an epic engagement shoot that still blows our minds!
Here are some of the tips I took away from that unbelievable experience, and I share them with you in hopes that you'll be able to turn your own engagement photo shoot ideas into an awesome reality.
Hire the Right Photographers
Hiring the right photographers is by far the most important piece of the puzzle when trying to transform you engagement photo shoot ideas into a reality. I know, I know … your cousin's best friend's neighbour recently started a wedding photography business and will give you a deal.  If you want the photo shoot of your dreams, you'll need to budget for it.  That's not to say you'll need to blow your entire wedding budget, just that there are very good reasons reputable photographers with amazing portfolios cost slightly more.  Trust me, it's worth it in the long-run.
We were blessed to find Renaissance Studios Photography, recognized as one of the best wedding photography companies in the world.  We can't say enough about owners Shawn and Clint, and their team; they're simply amazing.  To this day we continue to recommend them to everyone we talk to.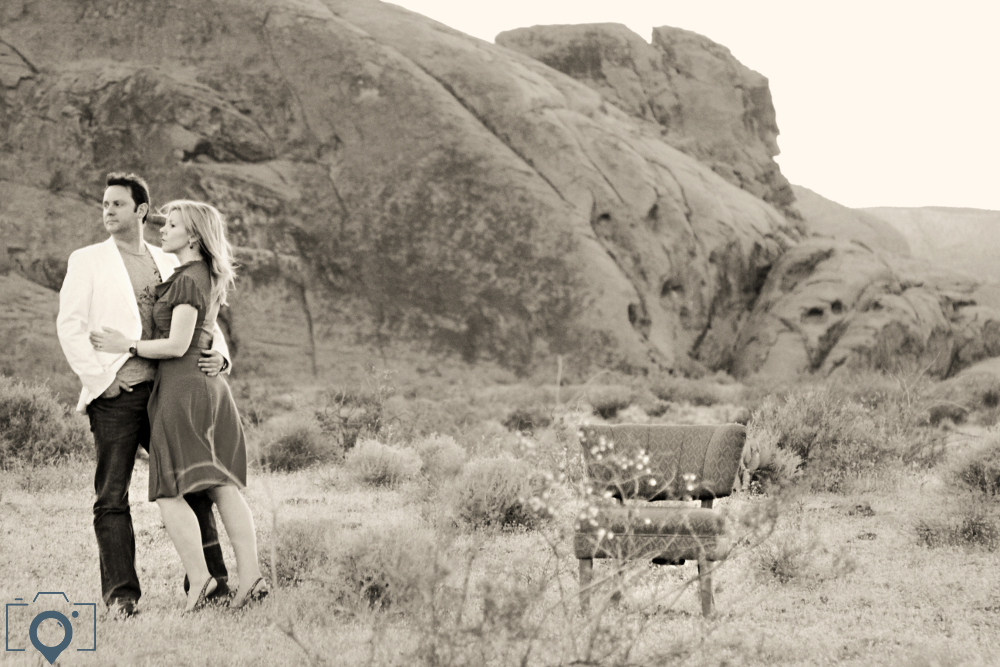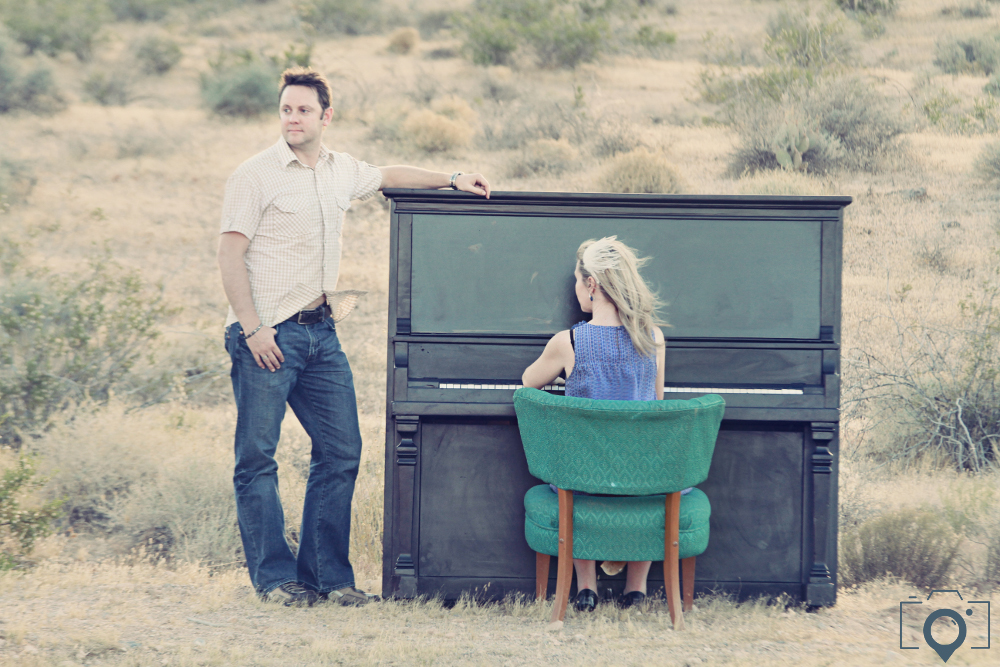 It's All About You
Although this should also be part of the process in picking your photographers, when it comes time to discussing your engagement photo shoot ideas, make sure the resulting view tells your story.  I've often seen excited couples with great pictures that end up rarely seeing the light of day because the shoot turned into more of a portfolio-booster for the photographers than an effort to tell the story of the couple getting married.
Our photographers took the time to sit down and really get to know us.  They started with a standard survey they give to all couples, but then they sit with you to really explore YOUR answers.  After really getting to know us, they told us about their vision of an awesome afternoon photo shoot in an amazing downtown Toronto location.
It was totally us, and we loved it!
Take a Chance
Through the discussion around timing and logistics for our photo shoot, the topic of our love of travel came up and our recent trip to Las Vegas.  I believe it was Shawn who quipped "well unless you want to take us to Vegas, here's what we envision for this shoot" …
To say we were distracted would be an understatement!
As I mentioned, we loved the ideas they came up with for our downtown Toronto shoot …. but what about this Vegas thing?  So we took a chance and inquired what it would take to make it happen.
Turns out, for the extra cost of 1 flight and 1 hotel room, we would receive 2 photographers for a full-day photo shoot!  How could we say no to that?!?!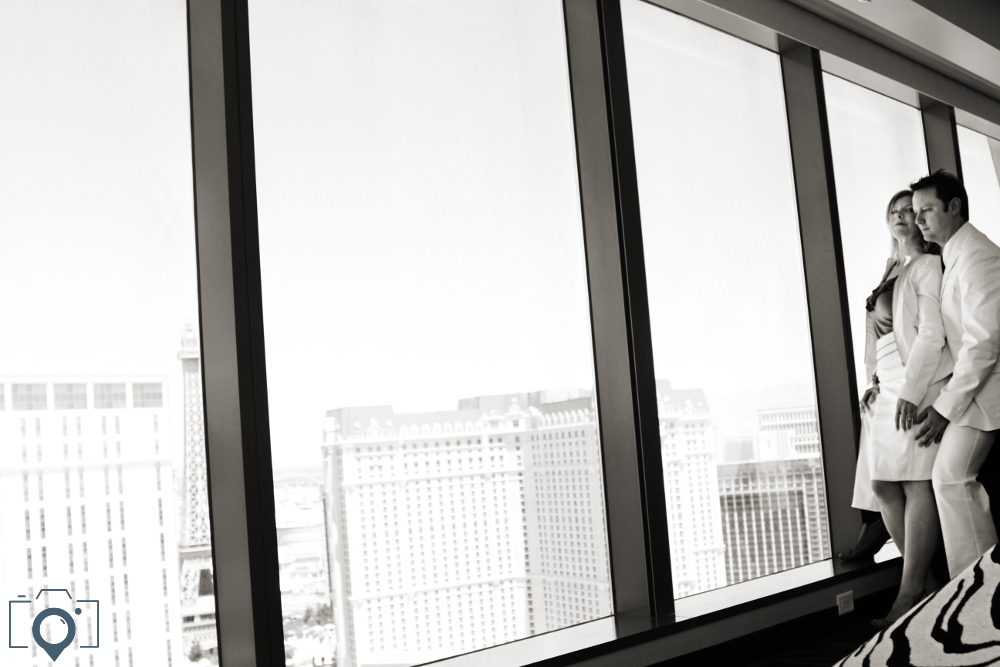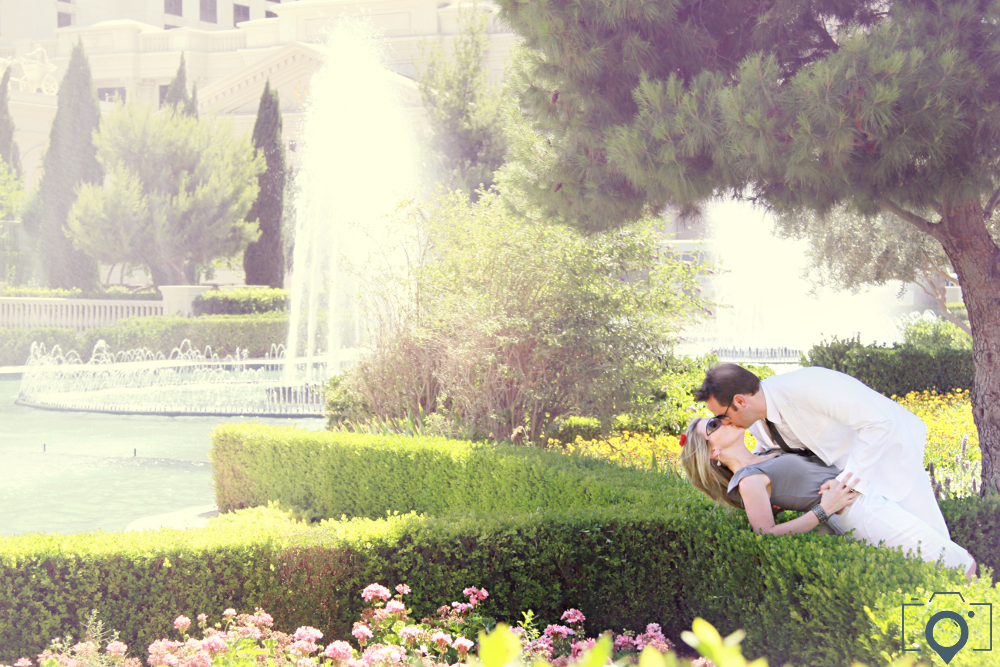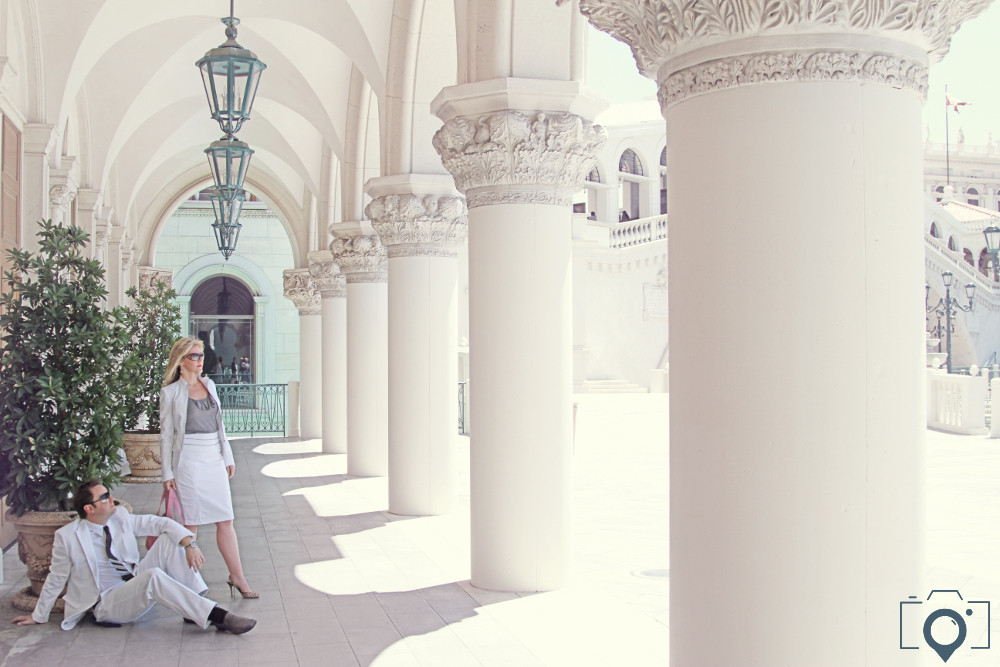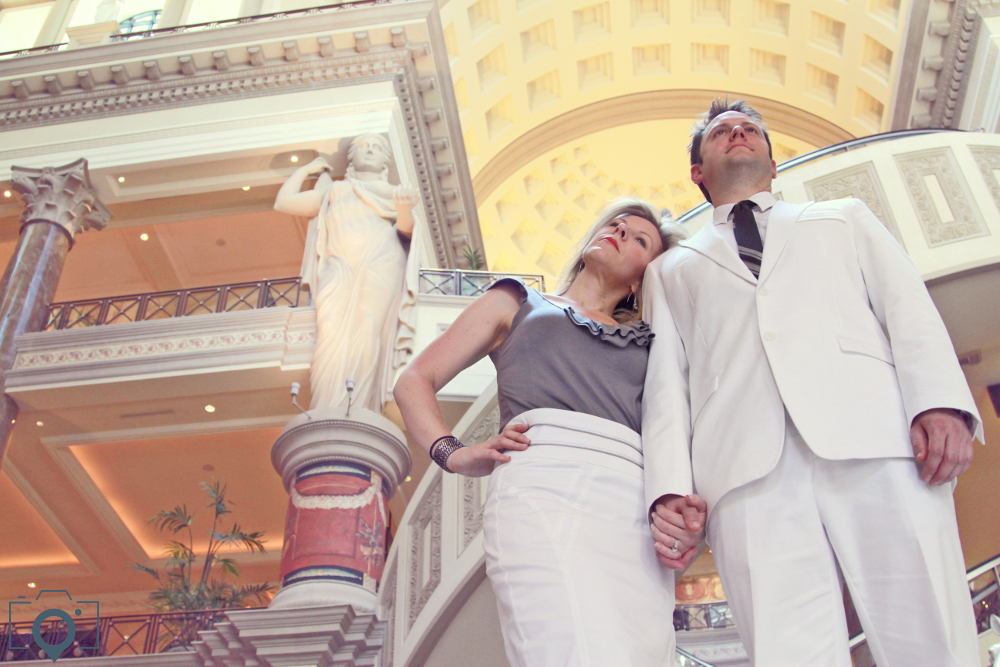 Location, Location, Location
It's not only true of real estate; you need to pay attention to the location you choose for your engagement photo shoot ideas, or risk the story falling flat before is even gets off the ground.
Now that we were off to Las Vegas, Shawn and Clint went above and beyond, in what was quickly becoming a theme for them.  They flew down a day early, rented a car, and drove around to scout some of the locations we had given them. When we arrived that evening for our pre-shoot discussion, they had mapped out an epic "Rags to Riches" story, weaving our stories into some of our favourite cityscapes and  landscapes found nowhere else.
Apparently they even had some more surprised in store for us, and went off to track down a concierge to find out about renting a U-Haul for the following day … what??
Execute the Plan
Make a plan, and execute it as flawlessly as possible given the circumstances that arise.
We had a game-plan mapped out before we went to bed, and work up bright and early, and ready for an action-packed day.  Were there bumps along the road? Of course!  But nothing got in the way of executing on our engagement photo shoot ideas.
It's still hard to believe all we accomplished in just 1 day of shooting.  We somehow managed to fit in 7 locations for our photo shoot.  6 locations were located on the famous Las Vegas Strip (though definitely not your typical, standard, touristy shots), and then a drive out to the Valley of Fire National Park for some amazing shots just before sunset
At the end of the day, we all returned to our suites exhausted, but incredibly excited about what had just transpired.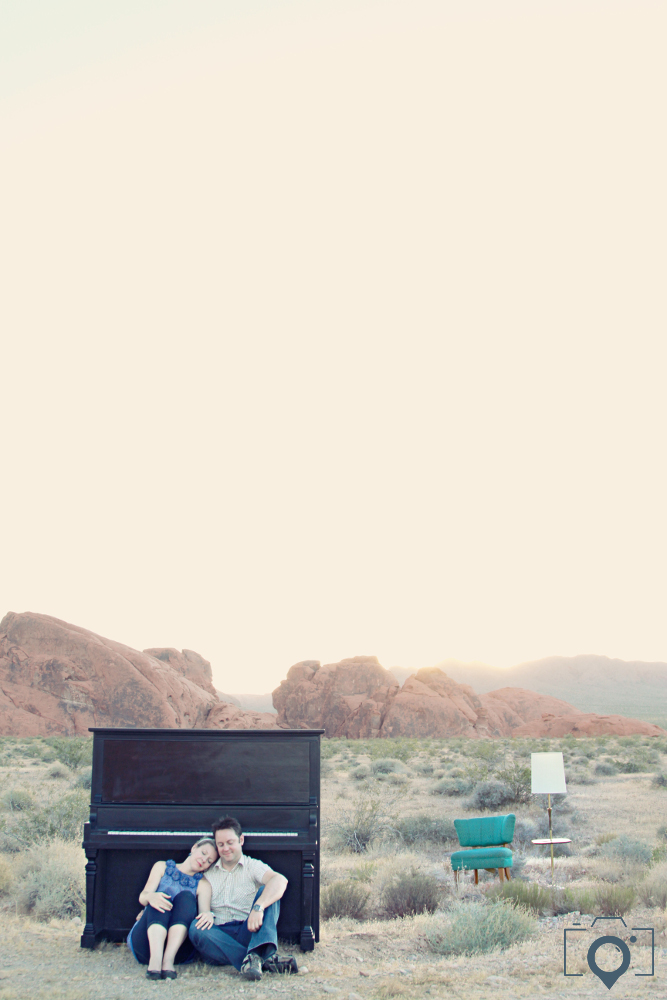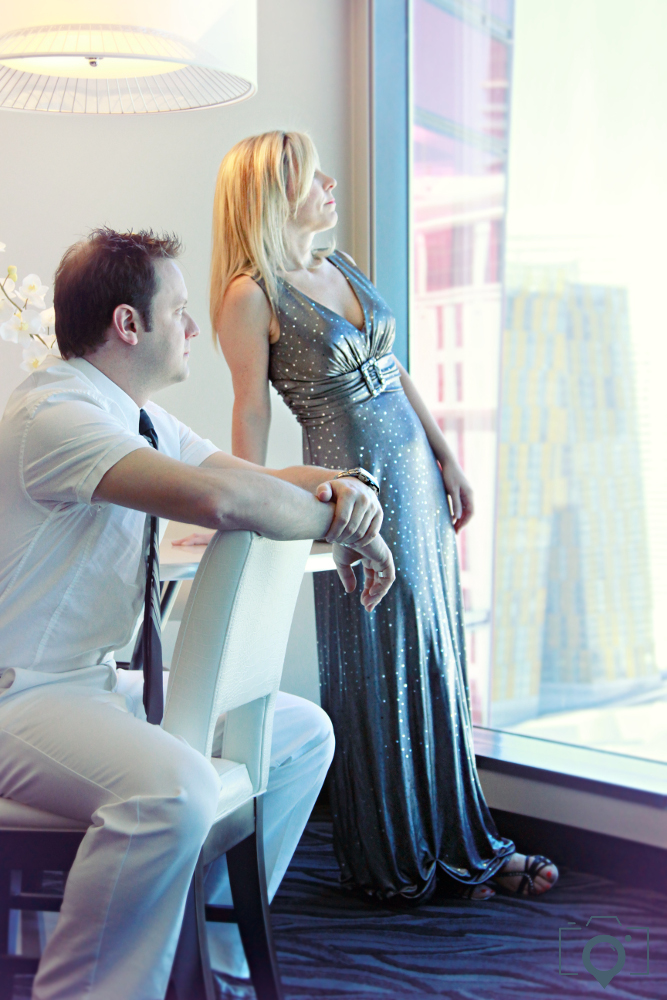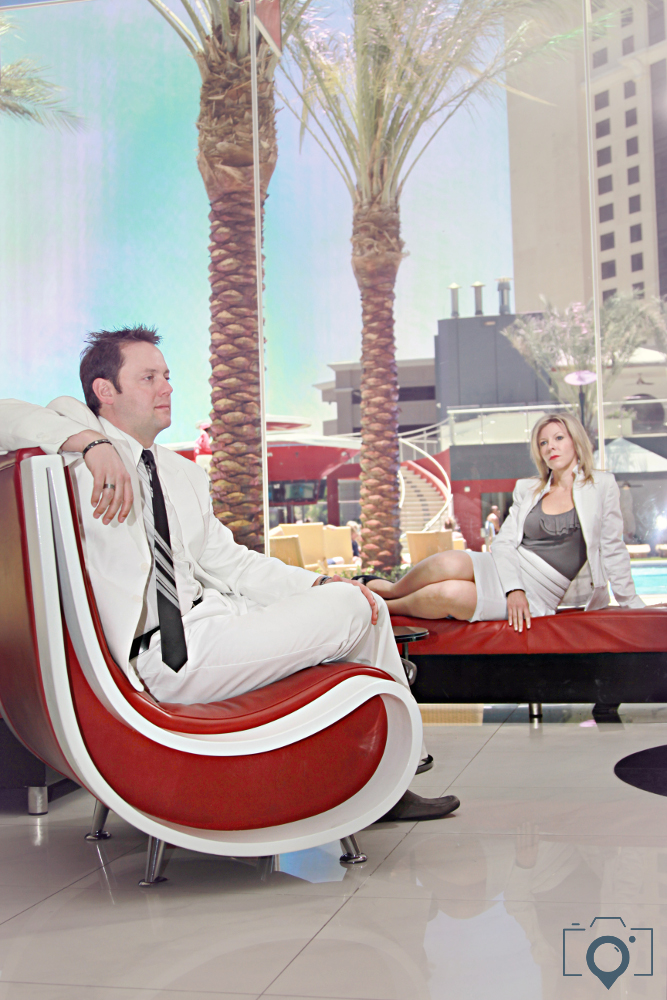 Postprocessing
Now that your engagement photo shoot ideas have been transformed into a epic day, you're all done, right?  Wrong.
Now your photographers will go back and diligently go through each picture they took, selecting the ones that best suit you and the story being told, and send them through some photo-editing software to make them sparkle.
Make sure you have the flexibility to work with your photographers in this phase as well.  You need the ability to explain why you love or dislike a certain filter applied to your pictures.   What about that skin blemish, rogue person, or trashcan that you need removed from the shot?  The end result is something you'll be cherishing forever, so make sure they reflect that.
With a little extra due-diligence you'll soon have a photo album of an epic experience that you'll never tire of opening, and your guests won't mind you showing off!
I know what you might be thinking … I have grand engagement photo shoot ideas too, but how can I make them happen on a tight budget?  It's not as hard as it seems, if you know where to look.
Isn't it time you stopped paying retail so you can afford the travel lifestyle you really want?
Was this helpful for you?  If so, please share it with a friend who you think would get value!
Be sure to comment below and let me know about your epic engagement shoot ideas!
P.S. IF YOU'D LOVE TO START YOUR OWN BLOG WITH "JUST 3 CLICKS", CHECK THIS OUT!
Was this valuable for you?  If so I'd really appreciate your comments below and shares on social media.
Resources Mentioned:
Renaissance Photo Studio – Rated one of the best wedding photographers in Canada, they've won WeddingWire's Brides' Choice award for 6 years and counting! Learn More
Shawn Van Daele – A creative genius!  Shawn is one of the most talented, humble, giving people I have ever met.  Be sure to check out Shawn and his inspiring photography projects on Facebook or his personal website.