Tricks for Using Your Phone Overseas
In an effort to remain connected while away, using your phone overseas quickly becomes a BIG topic to consider.  Leaving our phones off or traveling without our smartphones is not an option most of us are willing to exercise! The possibility of returning home to surprise phone bills for data roaming fees and excessive charges for texts or calls can make people to turn off their phone for much of their time away. With a few tips, there are ways to use your smartphone abroad for free. The key is a little flexibility and understanding that constant access to texting, calling, and the internet may not always be possible.
How to Send Texts for Free
If you and those you are communicating with all happen to share the same type of device, communicating is fairly simple. If you have iPhones or Blackberrys, you will have iMessage or Blackberry Messenger (BBM) included, respectively. For Android or Windows users, or those occasions when you need to communicate across different devices there are a number of free Apps out there to aid you, such as WhatsApp, BBM, Facebook Message, Skype, or Google Voice.
Using these services while traveling will only be free as long as you are on Wi-Fi, which is easy to find in most cities around the world. You may not be able to text at any given moment but at most restaurants or cafes you will be able to connect. If you find yourself in a location that has locked Wi-Fi, just ask your server for the password. Provided you are a customer they are generally happy to provide it to you.
Using iMessage on your iPhone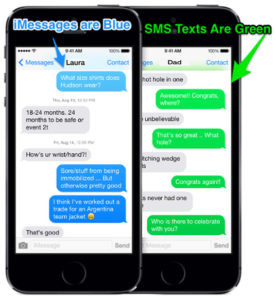 When using your iPhone out of the country, be sure to always turn off your data to be sure you don't get billed for any unwanted charges. You will also want to ensure you "Send as SMS" option is turned off so your texts are only being send via iMessage. This is found in Settings–Messages-Send as SMS. Simply turn off the indicator.
Note that it is easy to tell which method your texts are being sent in by the colour (iMessages are Blue, while SMS texts are Green). So if you send a text and it shows up as green your SMS or cellular settings are still active.
Alternatives to iMessage
If you have a smart phone and the recipient also has a smart phone there are plenty of apps out there that are just like iMessage, but not dependent on each person using the same brand of device. One example, WhatsApp Messenger, is in the app store and is a great way to text overseas. It's free for the first year, and 99 cents/year thereafter. As long as both parties have the app and are you are using Wi-Fi when traveling, it's free.
A similar application, BBM, is also a great alternative to iMessage. It's completely free from the app store, but offers in-app purchase ($1.19) for removing ads if you find those annoying. BBM is an offering from Blackberry to use the technology raved about by their users across other platforms. It offers instant chats, voice calls, picture sharing and voice notes.
One great perk of these messaging apps is when you do return home you can continue texting anywhere in the world for free.  Opening up the possibility that you have a free way to stay in touch with any new friends you make during your travels.
FaceTime and Calling with Your iPhone
FaceTime is 100% free to call anyone on an iPad, iPod touch, Mac, or iPhone provided you are connected to Wi-Fi in the city you are visiting. Once you find a secure Wi-Fi connection simply open up the FaceTime app and place your call.
Alternatives to FaceTime
Skype has a great smartphone app allowing you to make calls for free or very cheap depending on the type of call. Unlike FaceTime, with Skype you are able to make regular (voice) calls back home when needed. Not all Skype calls are free so be sure to add a little money to your Skype account before you leave home. Another alternative is Google Voice. It allows you to text and call right from the app. You can even create your own custom phone number for it while traveling. Again everything can be done for free over Wi-Fi. If you're worried about missing a call from someone while away, then you can also use Google Voice to set up call forwarding before you leave, then check your voicemail over Wi-Fi – all for free.
Head to Google Voice's settings page and click the "Add another phone" option. Enter your phone and set up voicemail forwarding. That way, when someone calls it, it'll forward to your Google Voice inbox, and you can check your messages over Wi-Fi. If you don't want to set up a permanent forward, you can set up a temporary one.
Browsing the Web and Email For Free
Browsing the web over Wi-Fi will provide the same experience as using your data plan at home. Once again, while away do not use any international data. Usually as soon as your plane touches down or you enter a new country you get a text from your carrier about some data plan which is almost never turns out to be the best option for you. If your phone is automatically downloading emails you can expect an enormous cell phone bill. Turn off your data roaming, and change your mail settings. Just like messaging and calling you can browse the web and email for free using Wi-Fi.
How to Change Your Smartphone Settings
I highly recommend turning off your data roaming any time you travel internationally. Here are the iPhone-specific steps you need to take (other smartphones will have similar settings):
Disable Automatic Email Checking:
– Tap the Settings app on your iPhone
– Select Fetch New Data under Mail. Contacts, Calendars
– Pick the desired mail checking interval for POP and IMAP accounts under Fetch
– Choose Manually to disable automatic checking
Turn off Data Roaming:
– Tap the Settings app on your iPhone
– Tap General
– Tap Cellular
– Toggle the Data Roaming slider to "Off"
Turn off All Cellular Data and Only Use Wi-Fi:
– Tap the Settings app on your iPhone
– Tap General
– Tap Cellular
– Toggle Cellular Data to "Off"
Now you won't accidentally use international data, and can avoid those surprise charges.
Paid Options
There is always the option to temporarily add features to your existing plan so you can continue using your phone as usual while traveling. You can normally do this online or by calling your carrier. For example, TELUS offers a series of Europe Combo Passes when traveling to Europe. The plans are valid for 30 continuous days of travel, start at $50, and include the following:
– 50 minutes of calling
– 150 MB of data
– 150 outgoing text messages (unlimited incoming)
These are better rates than making calls and texts without them. I would recommend them for when you absolutely need them but try to stick to Wi-Fi. The best part is they are one time fees and will not automatically renew each month. If you happen to use a lot of voice or data abroad with no plan, or you go over the plan you purchased, you do have another option. When you return home call your carrier and they will normally work with you to reduce those charges.
Track Your Data Usage Abroad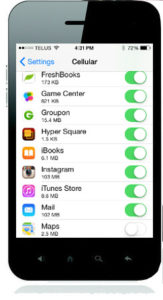 If you do choose to use a paid option or simply want to track your data, your smartphone should have a great feature to help you control what apps are using data. Many apps use data without you even knowing it which is why you need to turn those apps off when you are traveling, or at least limit the ones you want to use your data plan.
Using an iPhone example, go to Settings->Cellular, then scroll down to "Use Cellular Data For" section. You can toggle all of these on/off from this screen. You can also reset the statistics at the bottom of the settings to monitor how much date these apps have used.
Download Everything You'll Need and Clear Up Space On Your Phone
If you use your phone for navigation, the first thing you'll want to do before traveling is download required maps to your phone. The best free option for this is Google Maps where you can download maps for offline viewing (these maps expire after 30 days):
Search for the area you want a map for (e.g.: Vancouver, BC)
Tap the result box at the bottom of the screen
Tap "Save map to use offline"
It's a good idea to go through the same steps for some areas outside of town in case you decide to venture off to a new area. Note that with Google's offline maps, you have a map of the area in your pocket, but you still don't have access to navigation or location search. You'll want to write down addresses and cross streets of places you want to go so you can find them on the map. Just make sure you familiarize yourself with the maps beforehand.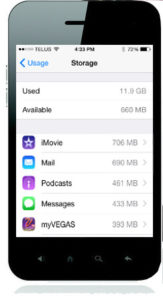 It's easy to forget what it's like to not have internet. If you stream podcasts, music, or books, you'll want to go download what you want to read or listen to before you leave. Don't forget to sync everything, too to make sure your backups are all up to date. Specifically, if you're using a translation app make sure the required data is stored locally before you go. For example, Google Translate is great, but make sure you download the language packs first:
1. Touch a language name at the top of the screen
2. Press the pin icon to the right of the language name to download the offline language package
Now is also a good time to clear up space on your phone by transferring photos, videos and podcasts to your computer. If you're on vacation, there's a good chance you'll want to take more pictures than usual, and the last thing you want is to run out of storage. Take the time to go through and delete what you don't need and free up all the space you can before you go.
Go Pay-As-You-Go
Signing up for a full smartphone contract for a short trip abroad doesn't make sense, but you can get a pay-as-you-go SIM card from most providers if you have a device that supports one. In North America we have had two primary types of technologies used by carriers: CDMA and GSM. You need to be aware that the majority of the rest of the world uses GSM, so you'll need a smartphone that supports it if you're going to be able to use a local SIM card. There are a few CMDA phones that support GSM, known as "world phones". Globally, we are currently undergoing a change from these technologies to LTE. On the surface this should resolve all of those configuration challenges, right? Sort of. You'll want to find an international provider to support the same cellular frequencies, or bands, as your phone. By searching for the technical specifications of your phone, you can find out which bands it supports. You'll then want to find an international carrier that uses those bands for their LTE service, otherwise coverage will be less than ideal and often slow. With the release of iPhone 6 we have a device that provides support for the most frequencies (by far), but this still does not cover everything, so you need to verify your own details and do a bit of research about local carriers for your destination before you can be sure your pay-as-you-go SIM card swap will work.
Once you find a compatible carrier, there's still one more problem: your phone must be carrier unlocked. If you purchased your phone on contract, chances are it is locked to your carrier, meaning only that carrier's SIM card will work in your device. In some cases you can ask your carrier to unlock your phone for travel purposes, but this will come at a cost. In the end, a pay-as-you-go SIM card is a great way to save money, but will take a bit of work on your part to get it set up.
Get a Pay-As-You-Go Wi-Fi Hotspot
If the above method seems like far too much work, you can always pick up a pay-as-you-go Wi-Fi hotspot from a carrier abroad. This will allow you to use your phone's Wi-Fi to connect to the hotspot and freely use data without paying any international roaming charges. The downside to this option, of course, is that your connectivity relies on the hotspot. For data usage, this won't feel much differently. Calls, on the other hand, will drop more easily when you're moving about because VOIP doesn't recover from dropouts like traditional cellular calls can. Additionally, you'll have two devices to charge: the hotspot and your smartphone.
Often times the hotspot won't last quite as long as your smartphone will and you'll want to make sure you have a charged mobile power bank handy. Although you can sometimes rent a hotspot as a traveler, you may have to buy one. They aren't exactly cheap and can quickly approximate the cost of roaming charges, so you'll need to take length and frequency of travel into account. Research providers and contact them in advance so you can find out your options before you travel.
With a little pre-planning, some attention to the settings on your smartphone, and Wi-Fi management you can get away with using your phone overseas for free (or for very little cost)!
Was this helpful for you?  If so, please share it with a friend who you think would get value!
Be sure to comment below and let me know what your tips are for using your phone overseas!
P.S. If you'd LOVE to start Your Own Blog with "Just 3 Clicks", check THIS out!
Was this valuable for you?  If so I'd really appreciate your comments below and shares on social media.