Switzerland Tour: 2 Days in Lauterbrunnen Hiking the Swiss Alps (Part 2)
If you missed Part 1 of our Switzerland tour where I described the first of our 2 days spend in Lauterbrunnen hiking in the Alps, be sure to go back and check it out.
As I mentioned in my previous post, the Lauterbrunnen Valley is a breathtaking place that you definitely want to put on your bucket list!  Nestled between gigantic rock faces and mountain peaks in the ski-happy Jungfrau Region, our off-season visit in October meant we were in for some incredible Lauterbrunnen hiking!
Our second day of Lauterbrunnen hiking took us up the west side of the valley to the village of Mürren.  As Mürren is not accessible by public roads, we boarded a cable-car from the valley up the 690m (2,263 ft) where we boarded an electric railway to travel the remaining 4km (2.6 mi).  Along the journey you are able to take in the amazing scenery, including incredible views of the Eiger, Mönch, and Jungfrau peaks.

Mürren is another picturesque mountain village you'll feel incredibly lucky to spend time in.  Walking through the car-free streets, we were immediately impressed by the gorgeous geraniums that lined the flower boxes of the chalets.  Almost immediately we were distracted by the faint ringing of cow bells echoing through the town.  After a little investigation we quickly found the culprit!
After spending some time enjoying Mürren we headed to the main attraction of this side of the valley – the cable-car up to Schilthorn!  The climb actually requires a stop at Birg, an intermediate station perched on a rock 1,000m above the village.  Following a quick pause to take in the views here we boarded the second cable-car to reach the 2,970m Schilthorn summit.
The Schilthorn summit is best known for the panoramic views from it's revolving restaurant, made famous in the 1969 James Bond movie: On Her Magesty's Secret Service.  For the Bond fans, be sure to check out Bond World 007, and interactive behind-the-scenes look at the movie.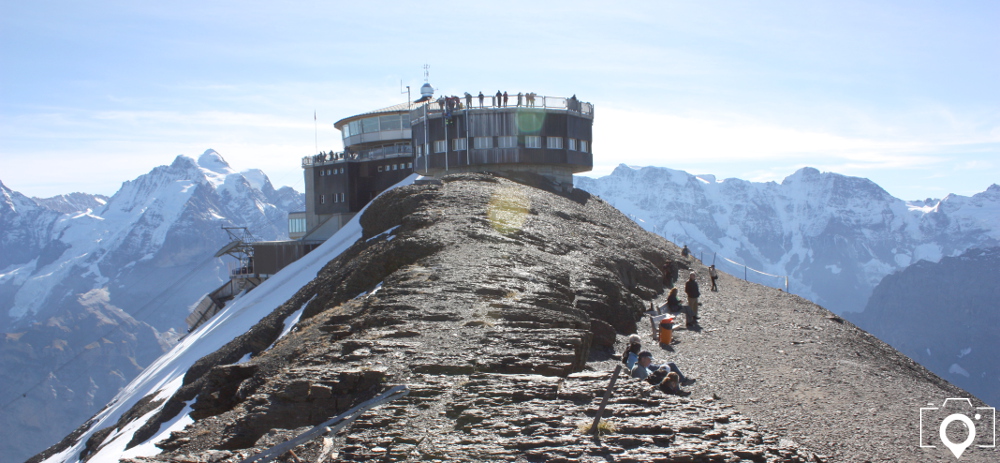 Schilthorn is a truly magical place.  On a clear day you can easily see Switzerland's neighbouring countries of France, Germany, and Italy.  The 360° view of more than 200 peaks and the UNESCO heritage site of Jungfrau-Alets, will definitely leave you breathless.
It's easy to see why travellers are more than willing to make the hour-long trek, including 3 gondolas and a train.  Schilthorn needs to be on everyone's list of places to see in your lifetime!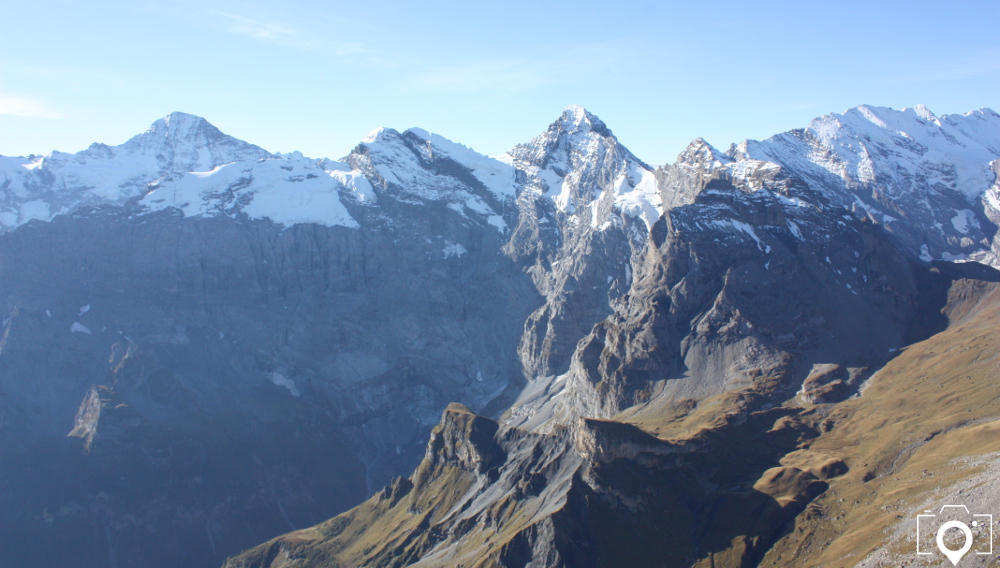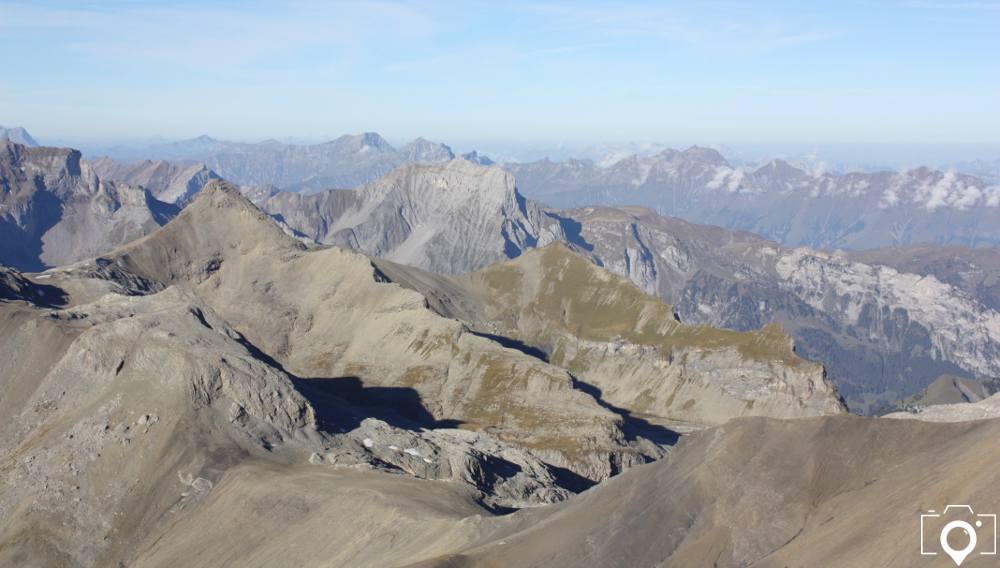 In addition to the amazing views, there's plenty of room to enjoy yourself … though why you'd want to come here wearing high-heels is a bit beyond my expertise!
Somehow we were able to peel ourselves away from this amazing place, and boarded the cable-cars back to Mürren.  After a quick lunch we decided to take Rick Steves' advice and walk to Gimmelwald.  Were we ever glad we did!
Gimmelwald is a hidden gem in the region, known by few travellers.  It's a car-free village of under 200 residents perched high on the edge of a cliff, providing even more incredible views of the region.  In this quiet, relaxing place you'll definitely get your fill of picturesque chalets, cheese houses, and cattle grazing on the mountainside – minus the hustle and bustle of other tourists.
Leaving Gimmelwald, we boarded out final cable-car of the day to journey down the steep cliff-face to Stechelberg where we caught a bus for the short trip back to Lauterbrunnen.  Along the way back to the valley floor you'll have a great vantage point as you pass by some of the many waterfalls in the region.
I hope you enjoyed the conclusion of our incredible Lauterbrunnen hiking tour!  Has it inspired you to visit the region?
Please comment below if you've visited this area and found even more hidden gems.  I'd love to discover them the next time I'm there.
If you missed part 1 where we ventured up the east side of the Lauterbrunnen Valley, you can catch up here.
Was this helpful for you?  If so, please share it with a friend who you think would get value!
Be sure to comment below and let me know if you've ever experienced Lauterbrunnen hiking the Swiss Alps!
P.S. If you'd LOVE to start Your Own Blog with "Just 3 Clicks", check THIS out!
Was this valuable for you?  If so I'd really appreciate your comments below and shares on social media.
Resources Mentioned:
Rick Steves – Rick is America's leading authority on European travel.  Watch any of his videos, pick up any of his books, or visit his website and it's easy to see why! Learn More
Rick Steves Switzerland – If you're planning a trip to Switzerland, you need this book!  It's packed with tips, tricks, and recommendations that will ensure your visit is as incredible as possible.  Learn More